Westley Richards "Howdah" Double Rifle - "One-of-a-Kind" - 16" Barrels w/ Factory Letter
Hello All,
About 5 years ago I acquired a Westley Richards .375 x 2½" Nitro Express. When this rifle came up for sale on Guns International, I couldn't resist it. It had 16" barrels. What a fun little rifle this would be. It tipped the scales at a stout 8 pounds 10 ounces, and has an overall length of only 32-7/8". That's about 1-1/2" shorter than a Winchester Model 94 "Trapper" with the same 16" barrel length. It soon came to its new home here in Wisconsin.
It has a large Butt Plate and stock with a 14-1/2" LOP. This means it wasn't meant for a Lady or Child. The balance and "swing" are the same as a rifle with a 28" barrel. This is certainly a "Mans" rifle that was surely intended as an upgrade over a Howdah Pistol. I've since researched high and low for Short Barreled Howdah Rifles, but find only Howdah Pistols. Some of those pistols had barrels nearly as long as this rifle's. Some Howdah Pistols even had shoulder stocks attached making them a primitive form of a carbine. This Double Rifle, when used from the Howdah atop an elephant, would have been much more controllable than a pistol, and a lot less cumbersome than a full length rifle in the confined space of the Howdah.
I called Westley Richards and inquired about the specs of this rifle. The Gentleman I spoke with said he didn't recall seeing another rifle with short 16" barrels. They sent a Factory letter of Authenticity confirming all the details along with a copy of the original handwritten ledger entry. This was surely used as a "Howdah Rifle" on Tiger hunts, because as the Factory letter below indicates, this rifle was shipped to Saleh and Co. in Bombay, India. I called Saleh and Co. and spoke with the grandson of the of the original owner. He said that records before 1929 were lost, but that such a special order rifle most likely went to one of the area Maharajas for Tiger hunting.
This double rifle has many very interesting features: Horn Forearm Tip, Horn Grip Cap, and Horn Butt Plate with the Westley Richards Logo. Super condition wood. Sling Eyes. One standing and 4 folding leaf rear sight, 50/100/150/200/300. Lots of original Case Color in protected areas, and a Bore as sharp and bright as any I've seen. Overall finish of the metal is a superb original "purplish-brown" that shows its character from use years ago. Nice overall Engraving with a "Buck Deer" on the bottom of the action, a "Crouching Tiger" on the bottom of the trigger guard, and a "Saber-Tooth Deer" on the back of the Lever. This one's a keeper.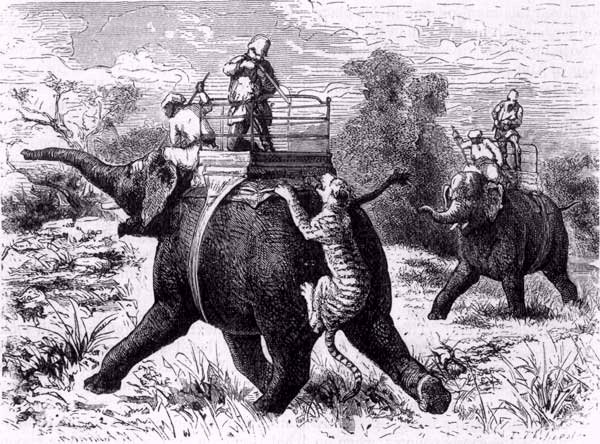 Here is the Original Westley Richards Ledger entry for this rifle.


Here is the Westley Richards Factory Letter of Authenticity.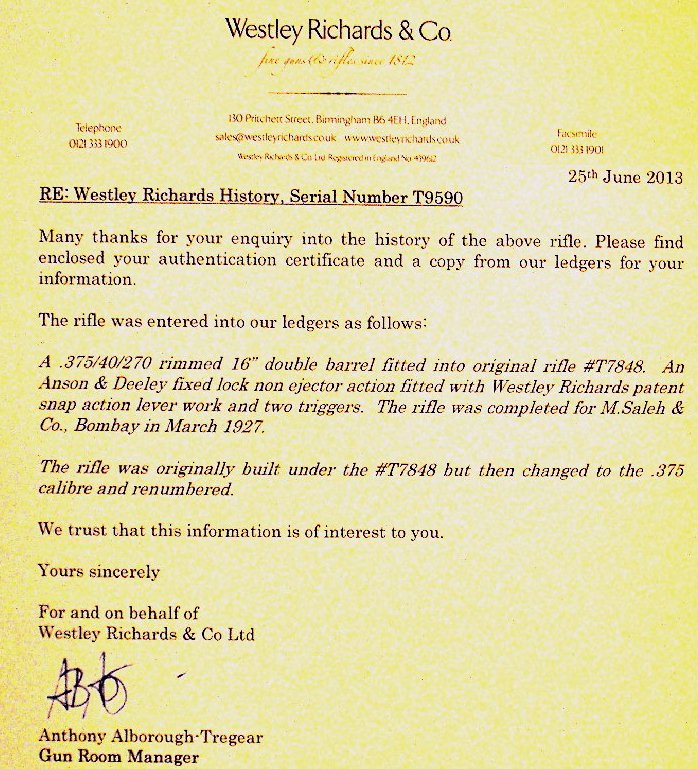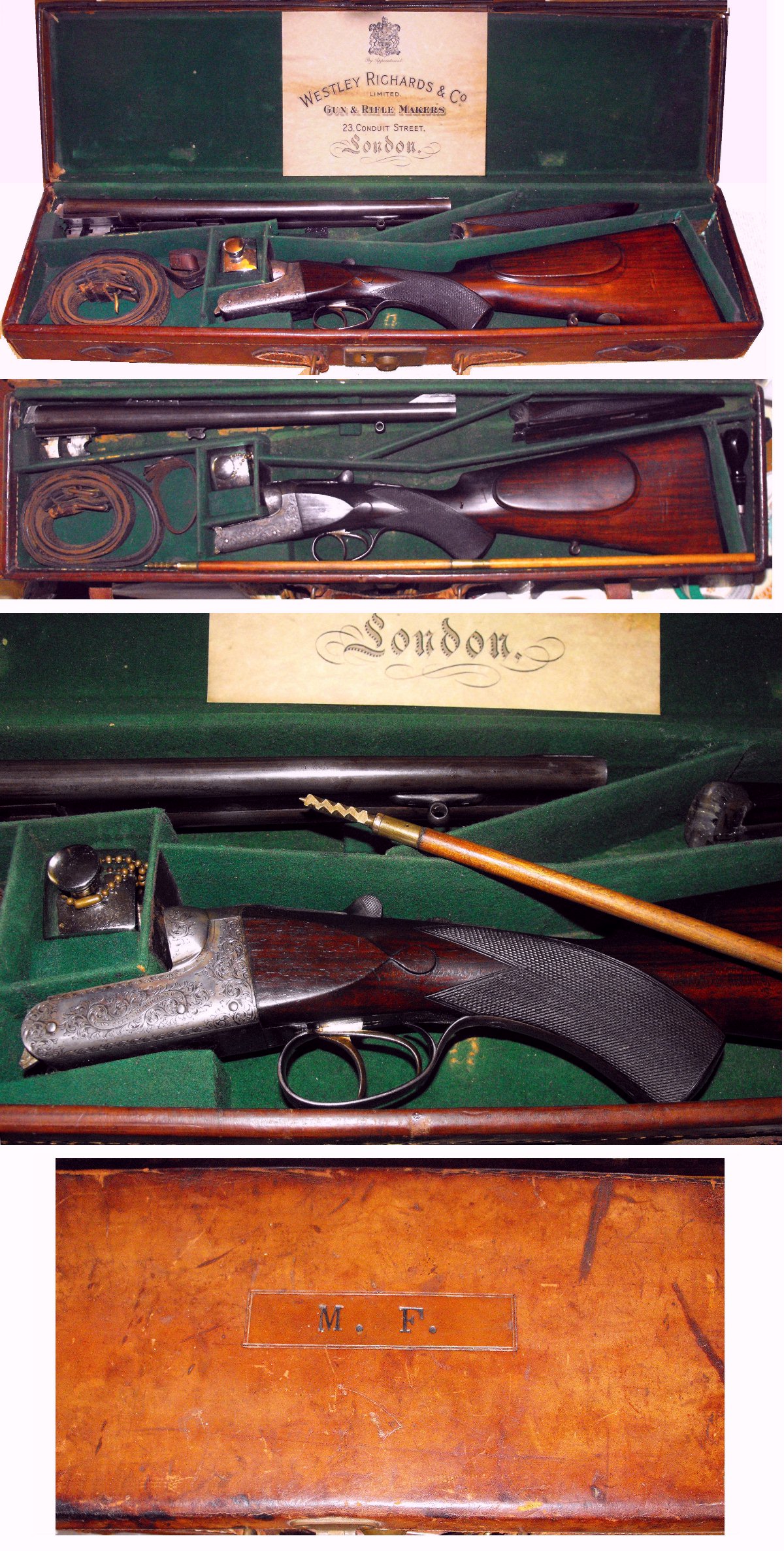 As the barrel stampings indicate, the regulation load was 40g cordite with a 270g bullet. I worked up a similar load for the 16" barrels using 270g and 300g bullets with IMR 3031 powder. The 300g bullets did better than the 270s and I'm very pleased with the results. I'm now ready for any Tigers that may present problems here in Wisconsin.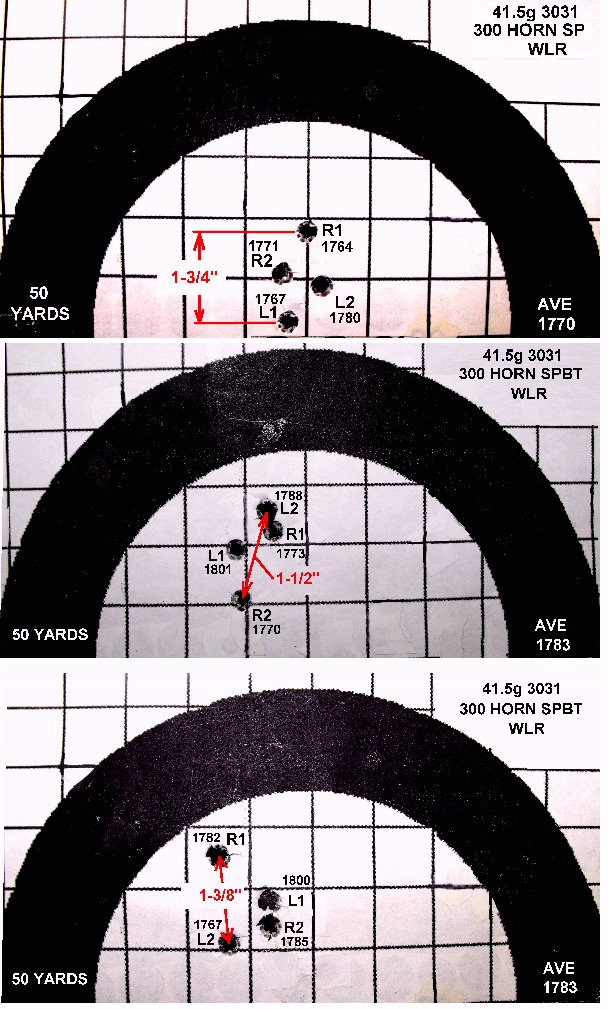 .